Hi, I'm Pallavi Pande, a passionate Mompreneur from Portland, Oregon, and the heart behind DTOCS. Inspired by my childhood memories of dining on banana leaves in India, I introduced the concept of this sustainable practice to the western world. I rescue fallen Areca palm leaves in India to give them one more use. I want to replace your cheap paper, toxic plastic and expensive bamboo plates with my sustainable palm leaf alternatives at homes and events.
"DTOCS",my brand name, echoes the essence of "Detox," symbolizes a cleaner, sustainable journey with palm leaves.
Our tableware? Crafted from naturally shed palm leaves, they're eco-friendly, chemical-free, and perfect for homes and events.
Not just products, but a cause – a major portion of our profits uplifts the livelihoods of our majority women workers in India. It costs 60$ for an annual enrollment fee for one child in India. We take pride in paying for the education of these children. A share of our profits support equitable education in the underrepresented communities locally in Greater Than PDX(non-profit).
Our commitment to quality? Evident, as we bagged the NEXTY award in 2019 for the most innovative sustainable product. And yes, watch out for us on Shark Tank in the future.
Every piece of DTOCS tableware is crafted with care. Dive in, and feel our dedication. Your purchase empowers us to keep making a social impact. Will you support me?
Cheers to healthier and greener choices!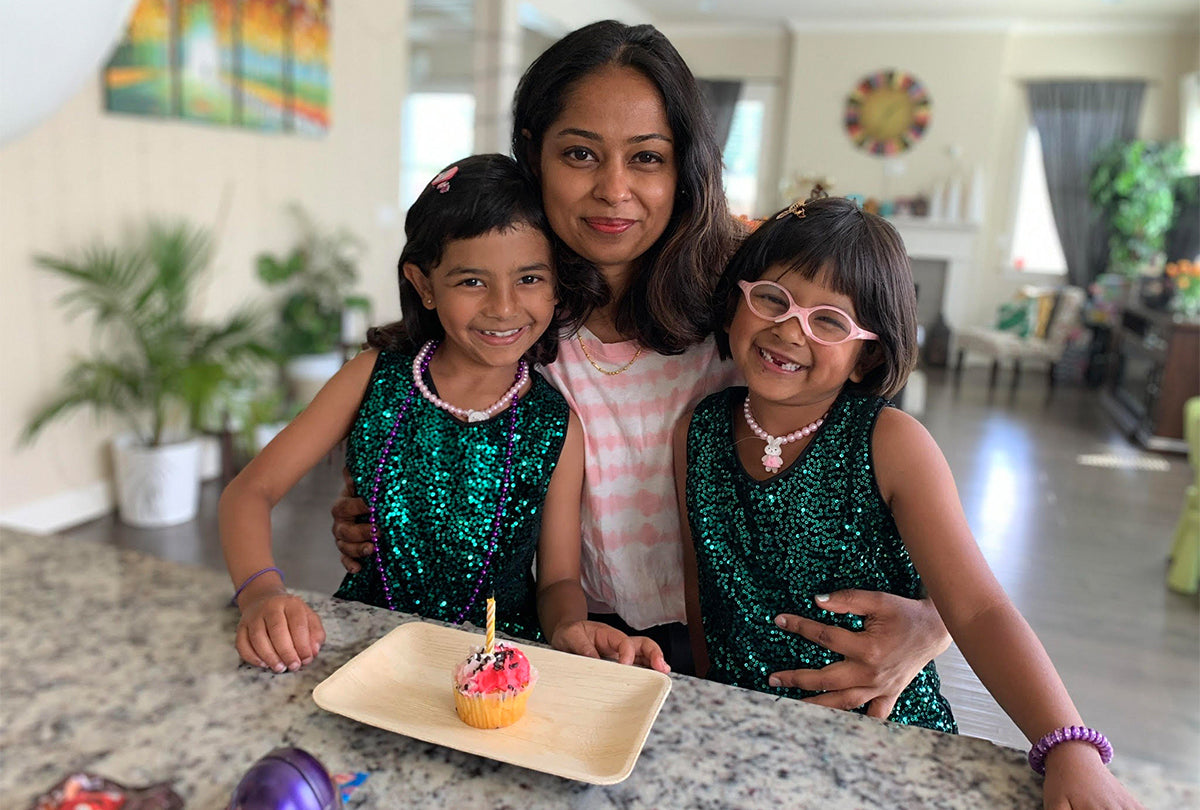 Dtocs
I am the mompreneur who is on a mission to put the 'able' in sustainable and the 'fun' in functional with my sustainable single-use tableware crafted from fallen Areca palm leaves.
I've discovered the magic formula: add a dash of convenience, a pinch of my Indian tradition of eating on leaves, and a whole lot of green consciousness - and VOILA.....................................................................you get my brand DTOCS palm leaf tableware.
Team
Pallavi Pande

Brand Owner & Founder Mompreneur
10+ Years as an enterpreneur. Inventory and warehousing experience. Sales and Marketing, Social Media Expert, Product evangelist. M.S.,The Ohio State University

Rhea Pathak, Isha Pathak

Brand Ambassadors
Expert in advocating, product photography, video and social media.

Abhey Bansal

Chief Operating Officer
10+ years of experience in Operations Management, E-Commerce, Product & Brand Management, and Supply Chain. MBA, Thapar University, India
FREE SHIPPING

Free economy shipping across US irrespective of order value.

CUSTOMER SERVICE

We are available from Monday to Friday to answer your questions. Email: support@dtocs.com

SECURE PAYMENT

Your payment information is processed securely.

CONTACT US

Need to contact us ? Just send us an E-mail at support@dtocs.com